What is a Fascia Board?
The fascia board is the wooden board that ties into your rafters at the end of the eave of your roof. It is important for several reasons. Structurally, the fascia board helps to keep your rafter tails in line as your home and roof settle in. The fascia board also plays an important role in finishing off the end of your eave and when combined with soffit can seal the eave of your home off to prevent rodents or wildlife from invading. Lastly, the fascia board plays a critical function in that it provides a surface to attach the gutter to in a manner where the gutter can collect the water coming down from the roof. When you are considering gutter work, it is important to have your fascia boards inspected by a professional.
Why do I need to have the fascia board inspected?
When a gutter system is not handling the water properly coming down from your roof, it can penetrate your wooden fascia boards and cause them to rot. If this happens for an extended period of time, the water can also soak through the fascia boards and wick into the rafter tails, rotting them out, which can cause extensive roof damage. If you have gotten this far, chances are that you have already recognized water mismanagement issues with your gutters, and if you are going to have work done on your gutters, it is important to make sure your fascia boards are sound and properly reinforced because gutters need to be removed in order to make fascia repairs or replace your fascia boards.
Why is it important?
Overlooking fascia issues during a gutter project, or even in general, can lead to much more expensive repairs in the future. We regularly encounter gutters having fallen off of homes due to rotten fascia boards or even just loose fascia boards. This causes the eve of your home to be exposed to the elements and to nature, which is terrible for your home. Pest infestations, water damage, and other hazards are inevitable should that happen.
What should I look out for?
Most gutter companies, like us, love installing gutters and gutter guards, but do not like to do woodwork like fascia and soffit repairs. It is much more time consuming and there is not really much profit in that type of work. This inclination leads to many homeowners hiring companies that will overlook these issues and install gutters over bad wood, even sometimes knowing that it will eventually be discovered when a gutter falls off the house because the wood cannot support the gutter anymore.
Why choose Wildcat Gutters?
Here at Wildcat Gutters, we want customers for life. In order to accomplish this, we take our responsibility to make sure your job is done properly very seriously. We want to make sure when we are done with your project that it won't fail, and we won't need to come back out in the future to fix something that should have been done right the first time. What that means to you is if we find bad wood, we will make sure to bring it to your attention and resolve the problem before your new gutters go up. We want you to be able to put your gutter concerns behind you by the time we finish your project, and to call us back when you get your next home!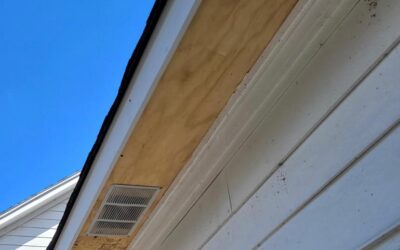 Are you looking for a reliable home improvement company to repair and replace your fascia board? If you live in Lexington, Kentucky or the surrounding area, look no further than Wildcat Gutters. Our team of experts will provide you with the highest quality of service…
read more